Career – Online education leadership winner awarded by BBC knowledge to IIBM Iinstitute will boost your career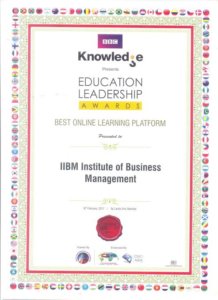 We are delighted to share that IIBM Institute of business management is recently awarded by BBC Knowledge Award for Education Leadership Awards for Outstanding Contribution to best online learning Platform at Taj in Mumbai. It recognise a education of online learning is more convenient and inspirational .This provide a unique opportunity to individual to spark their profession.
Students who want to continue their further education but are worried that you do not have the time to become a full time student? One option that requires less time and the ability to learn from home is online education programs provided by IIBM Institute. This section contains articles about online education – how it works, how to find a program that fits your need .Millions of students from all around the world opt for online degree programs or take at least one college course through an online platform. Online learning has to be the greatest revolution in contemporary education. It made a huge change in the system and opened great opportunities for everyone who wants to learn something
ADVANTAGES OF ONLINE LEARNING
You can learn whatever you want!
You can pick the program of your dreams in traditional education, too, but that would involve traveling away from home, living in a completely unknown city, and struggling in an extremely competitive learning environment. With online education, you can take any program or course through IIBM Institute of Business Management.
Forget about attending classes for hours, sitting in an uncomfortable chair, and suffering from back pain by the end of the day. You will not be bound to physical class session when you opt for online education. All lectures and needed materials are provided via online platforms, so you'll easily access them from the comfort of your home. You will not take public transport to get to campus, you won't have to spend money on gas for your car, you won't have to get up early to get dressed for class… the list of conveniences goes on and on. Comfort is a strong advantage, but it can go both ways. You mustn't allow yourself to get too comfortable when studying from home, so it would be best to abandon the couch for few hours a day and set up an inspirational studying environment in your home. All you need is  a large desk and a nice, comfortable chair.
Online courses look great on a resume.
It doesn't matter where your career stands at this moment; an online program will always look good on your resume. It will show potential employers that you're committed to learning and you're eager to obtain more knowledge and new skills. Hiring managers don't see online Certifications as inferior to traditional ones. A certificate is a Certificate. If you obtain an online Certificate from a prestigious Institute, you'll boost your career with the speed of light. You will certainly become a better candidate for a job promotion, and your resume will look much better when you apply for new positions.
The 'Indian Education' award winning and leading educational institute, IIBM institute of Business Management, endeavour towards building a Talent Pool. The enrichment of talent pool that contributes to the organisation is highly essential for the economic growth of the country. Thousands of IIBM alumni are working with leading companies like Citibank, Wipro, Dell, Honeywell, and HCL & Convergys.
The institute offers a wide range of  Master Certifications, Executive Programs, Dual Programs and Professional Programs. All the programs have been designed with industry-oriented and updated curriculum considering the real-world business scenarios. For more information please visit www.iibmindia.in Toll Free Number: 18002700434 Email Id- sales@iibmindia.in